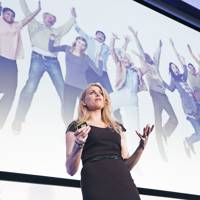 Khalili believes he can get close enough. According to him, the CRISPR system doesn't need to eliminate all the HIV-infected cells, just enough so an HIV-patient's immune system can get strong enough to take care of the rest on its own. "I strongly believe in the gene-editing strategy, and with my 30 years in HIV research, I think this is the one that is going to take us to the end."
He's not the only optimist. "The advantage of using a virus as your delivery system is it can infect virtually every cell," says Jianhua Luo, a pathologist at the University of Pittsburgh. Luo is using a similar CRISPR-in-a-virus system to target cancerous DNA in cells.
And curing HIV could be a proof-of-concept for other diseases – even genetic diseases people are born with. Although the virus starts as a simple infection, once it becomes part of a person's chromosome, it essentially becomes a genetic disease.
HOW CRISPR-CAS13A ENZYMES BEHAVE LIKE PAC-MAN
---
The CRISPR-Cas13a family, formerly referred to as CRISPR-C2c2, is related to CRISPR-Cas9, which is leading biomedical research and treatment into gene editing.
However, while the Cas9 protein cuts double-stranded DNA at specific sequences, the Cas13a protein – a nucleic acid-cutting enzyme referred to as a nuclease – latches onto specific RNA sequences. This means it not only cuts that specific RNA, but runs amok to cut and destroy all RNA present.
"Think of binding between Cas13a and its RNA target as an on-off switch — target binding turns on the enzyme to go be a Pac-Man in the cell, chewing up all RNA nearby," researcher Alexandra East-Seletsky said. This RNA killing spree can kill the cell.
Three of the new Cas13a variants also cut RNA at adenine. This difference allows simultaneous detection of two different RNA molecules, such as from two different viruses.